SELF DEFENCE WITH KRAV MAGA – SEVEN DAYS CAMP ISRAEL 17-24 JUNE 2018.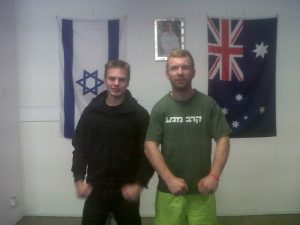 ISRAEL TRAINING CAMP 2020 Tel Aviv
Sunday, June 14, 2020 10:00 AM
Saturday, June 21, 2020 5:00 PM
Krav Maga practitioners of all levels will be flying into Israel from across the globe to to participate in the Krav Maga Combat Training Ron Engelmann Australia crew and camp.
This Combat Camp as a unique experience to train with the top Krav Maga Experts including Ron Engelman, IDF commander and founder of Krav Maga Defence Institute.
Training throughout the camp is held in different environments and locations including the beach, in water, in the forest.
Israeli martial art that aims to defend oneself in a dangerous situation and a threat:
Krav Maga fights against real threat, assault, terrorist attack
Thanks to self-defense art classes with Krav Maga, we will be able to jump to an even higher level of realism
Kicks in the head, elbows and knees will be completely safe. Your body will learn the real distance.
Health and safety are the most important.
CLASSES WITH KRAV MAGA, or Israeli self-defense art
There are no elements of aggression during the classes.
There is a nice self-defense course in the Krav Maga system, among others people in the group.
Training against bank robbery
A BANK ACCIDENT – A FIGHT ON THE STREET – PANIC AT A BANK
We have a three-hour training program divided into two parts – educational and test.
The educational part discusses issues from the following sections:
– the perpetrator's methods of action
– dangerous items used by bandits
– types of security measures limiting the risk of assault
The test part involves trainee's knowledge of issues that were previously discussed in the education part. After passing the test, you can print the certificate and attach it to the personal file of the trainee.
ACTIVE SHOOTER – ANTI TERRORIST ACTIVITIES
The mentioned course is one of the few that is fully directed to civilian employees and persons responsible for ensuring safety: managers and managers.
The main issues raised during the course are:
Characteristics of the situation involving the active shooter.
What is it about, what is the motivation of the attacker and how it works.
How to behave during such a situation.
How to prepare for such event, what to include in crisis response plans.
What later before attack.
How to behave after the occurrence of such event. Potential threats to employees, drawing conclusions.
The training will be run by a team of trainers, including two women – instructors certified by the Israeli army.
Our team of instructors has developed a unique training in safety procedures and self-defense designed for every woman regardless of age, fitness and previous sport and life experience.The principles of cooperation with law enforcement are also described. Not everyone is aware that in such a situation, for an intervening policeman, everyone is a potential aggressor.
Training for women (including children) at different ages and fitness levels will include:
learning security procedures
assertiveness training before the attacker
self-defense using improvised tools
learning how to attack and defend against knocks, kicks, and strangulation
teaching overturning and safe falling
combat tactics, in the context of an armed aggressor or group of aggressors
legal context of self-defense – theory and practice
psychological context – how not to be a victim of aggression
improving physical condition
scenario training in the stairwell, in limited space, as well as in the park, at the bus stop and in the city.